Kitchenware Catalog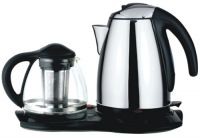 Stainless steel electric kettle(KC2073)
Specification??
INPUT AC100V-240V
Frequency 50/60 Hz
Power 1800 W
Capacity 1700 ML
Means 53*33.5*47.5 CM
Outer packing 6 SET
G.W. 10 KG
Product Feature:
1.Simplicity and practicable design,Graceful design,compact size,stainless xxxxx only 4-6 minutes to boil water,easy to use.

2.Auto power-off in case of no water inside,safety with water tank xxxxx material,heating-holding design,with filter upside,easy to clean.
3.Both teapot and kettle 360 degree rotating, convenient to xxxxx the boiled water at 40-60 degree.
4.With red power light indicator,to show the heating plate working or not.
Stainless steel electric kettle(KC2073) product offered by ShenZhen KingCyber Technology Co.,Ltd
Related Products from This Manufacturer