Kitchenware Catalog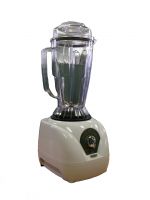 Blender
This is your excellent choice to create all about you want to eat with this high-performance blender.

Features
- High-performance of powerful motor
- Versatile:
Variable speed control allows you to chop, grind and blend different ingredients at the right speed.
- Durable 4 points stainless steel blades.
- Big capacity: Virtually unbreakable polycarbonate 2,000CC container.
- Heavy duty water-resistant base.
- Convenient time switch to prepare cooking automatically.
- Attractive design: It will be a jewel of your professional kitchen when you get it.

Blender product offered by Best Green Co.,Ltd
Related Products from This Manufacturer