Kitchenware Catalog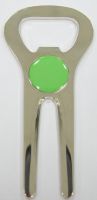 Zinc Alloy Bottle Opener and Ball Marker
Product Catalogue: Zinc Alloy Bottle Opener
Upper piece: Aluminium, screen printigng, unplated with epoxy, size:16mm, one lighting color
Lower piece: Zinc Alloy without coloring,Length: 81mm, Thickness:2.0mm, Nickel plated.
Zinc Alloy Bottle Opener and Ball Marker product offered by Jian Plastic & Metal Products LTD
Related Products from This Manufacturer
Sorry! No product were found.