Kitchenware Catalog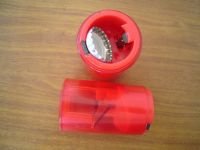 Bottle Openers Top Quality
If your are seeking the top quality for this item, we are the exact producer!
This push-down bottle opener helps remove bottle caps easily—just put it over the neck of the beer bottle, then push it downward with a little strength, the drink is ready! The magnet installed on its mouth part will catch the removed cap preventing it from going elsewhere!
The functional system is built inside the cylindrical shells that can be of transparent or full colors.
The bottom diameter is 5cm; top diameter 5.3cm, height of 8cm, total weight of 70 grams. This provides a very large area for full-color imprints.
Each piece is individually packed into an inner box.
Smaller orders are acceptable. Shipment can be made within 15 days.
Bottle Openers Top Quality product offered by Ninghai Chipeng Mfg.
Related Products from This Manufacturer
Sorry! No product were found.