Kitchenware Catalog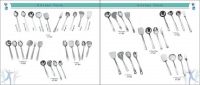 Stainless Steel Kitchen Tools
Our collection of Kitchen gadgets is uniquely engineered with quality stainless steel material.
Our collection of contemporary quality stainless steel ensures consistency in design.
They suit various styles of cooking like deep frying, shallow frying, mixing or meshing.
Our Serving Tools are very handy and designed in a user friendly manner. The designs range from very simple to elegant ones.
Stainless Steel Kitchen Tools product offered by Denovo Overseas
Related Products from This Manufacturer