Kitchenware Catalog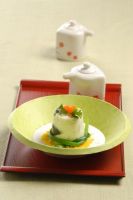 PE/PLA coated Paper Salad Bowl
Beautiful shape, elegant cuisine shapes, it makes the food more delicious , hence increases the appetite. The tensility of this product is three times stronger than other regular paper bowls. When they are filled up with food, their shape won't be deformed, and the unique structure uses the air to isolate heat when filling up with soup, so the bowl won't scald your hands.
PE/PLA coated Paper Salad Bowl product offered by Sun Rise Green Technology Co., Ltd.
Related Products from This Manufacturer
Sorry! No product were found.