Kitchenware Catalog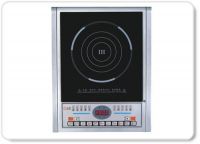 induction cooker
• Six heating modes: hot-pot, stir-fry, saute, barbecue, steam, and braise.
• One automatic operation mode: water boiling.
• It can be reserved to turn on in 1~720 minutes.
• Automatically turn off power after heating for 2 hours for machine protection.
• The system will not work when detecting the following cases: No pan is on the panel, the pan is not big enough or the pan is not suitable for the induction cooker.
• Built-in temperature detection for electronic parts protection.
• Built-in over voltage & current protection circuit.
• Switching power supply makes system work well in the voltage range of 180~250V.
• System supplies fault detection and warning function, which makes it easy to discover and repair faults in time.
• Built-in self test program makes the online testing easy.
induction cooker product offered by zhongshan auno electric co.,ltd
Related Products from This Manufacturer
Sorry! No product were found.