Kitchenware Catalog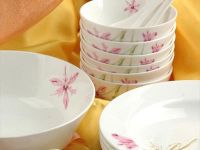 21 Pcs of Beauty's Tableware
Our shellporcelain are famous for its ecological,green and healthy:5000 year's ecological culture of ancient seashell bank was pregnant with the quality of her green.
Pure white and flawless,exquisitely carved:The texture like jade makes the shell porcelain penetrade a noble ad elegant romatic charm.
Asepsis and Anti-bacteria:Seashell porcelain has a natural antibacterial property.With the advanced technique of "no lead glaze and color in glaze"ect,no lead and cadmium were dissolved and it avoided the disaster source of the porcelain lead poisoning.
21 Pcs of Beauty's Tableware product offered by Shandong Pearlshell Porcelain Co.,Ltd.
Related Products from This Manufacturer
Fatal error
: Call to a member function f() on a non-object in
/data/web/kitchen/kitchenware-info-www/common/func_product.inc.php
on line
456