Juicer Catalog

Power: 350W (MAX) Voltage: 230V/110V The speed of rotating: 22000 rpm Color Packing: 165X 365 X 215mm Box Packing: 505 X 375 X 440mm 6PCS/CTN 20' 2153pcs 40' 4306pcs G.W (kg): 1.6 N.W (kg): 1.93
Ningbo Lulu electric apparatus CO.,LTD

1. Power : 350W (MAX) 2. Voltage : 230V/110V 3. The speed of rotating : 22000 r/m 4. Color Packing: 165X 400 X 215mm 5. Box Packing: 505 X 410 X 440mm 6. 4PCS/CTN 7. 20' 2000pcs 8. 40' 4000pcs 9. G.W (kg) : 1.68 10. N.W(kg) : 2.0
Ningbo Lulu electric apparatus CO.,LTD Power : 350W (MAX) Voltage : 230V/110V The speed of rotating : 22000 r/m Color Packing: 260 X 250 X 300mm Box Packing: 280 X 770 X 625mm 6PCS/CTN 20' 1188pcs 40' 2484pcs G.W (kg) : 2.08 N.W(kg) : 2.4
Ningbo Lulu electric apparatus CO.,LTD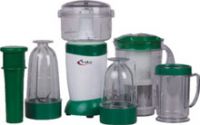 Power : 350W (MAX) Voltage : 230V/110V The speed of rotating : 22000 r/m Color Packing: 260 X 250 X 300mm Box Packing: 280 X 770 X 625mm 6PCS/CTN 20' 1188pcs 40' 2484pcs G.W (kg) : 2.08 N.W(kg) : 2.4
Ningbo Lulu electric apparatus CO.,LTD

This product is a single gear masticating juicer. It can juice all types of fruit and vegetable and can also juice grasses such as wheat grass and will provide up to 60% more nutrients and vitamins than most other juicers. They are manufactured in South Korea and is the same ...
Elliott Goldenberg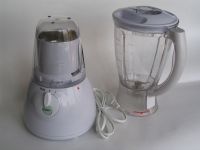 Kitchen Appliances Specifications: Blender with Chopper: 1. 300W motor, over heat protection and safety start switch 2. Specially designed bowl and blades for fruit juices, cocktails, smoother soups, sauces and fruit purees 3. Universal grater attachment for quick choppi...
World Harvest International Limited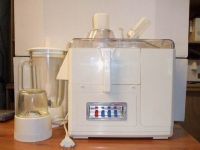 Specifications: 3 in 1, Crystal Clear Glass Jar, 450W, 8820 powerful motor Description: Juicer, Blender and Dry Mill 3 in 1 Stainless Steel Spin net/Blades Gift box Dimension: 43x23x30.5cm Carton Dimension: 69.5x44.5x32.5cm G.W. (kegs):14KGS N.W. (kegs):13kgs 2pcs/...
Yong Feng Electric Ltd.

Power Juicer: Special Patented • Extraction Technology • Extra-Large Round Feeder • Super-Sized Detachable • Pulp Collector • Dishwasher Safe • Whisper-Quiet Operation • 3,600 RPM Motor Has • Lifetime Guarantee • Built-In Safety Features • Sur...
YOUNGER CREATION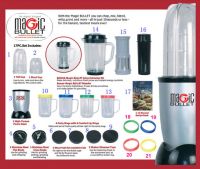 1pc Power Base (ABS made) 1pc Stainless Steel Cross Blade 1pc Flat Blade (s/s) 1pc Tall Bullet Cup (PC) 1pc Short Bullet Cup (PC) 1pc Shaker Top (PC) 4pcs Steamer Top (ABS) 1pc Stay-Fresh Lids (PC) 1pc Soya-bean milk cup (AS) 4pcs Mugs with Colored Lip Rings (AS) 21...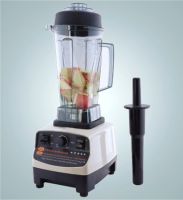 PRODUCT DESCRIPTION:BLENDER KS 767 VOLTAGE:220v 50Hz POWER:1200W GW::5.2kg NW:4.8kg 22000r/min GIFT BOX MENS:52*26*29CM 750PCS/20FT